'Why Him' actress Zoey Deutch breakup with her boyfriend, With details on her life.
Love and heartbreak are common in a relationship. But it would be hard for fans as well to digest the news as one of Hollywood's favorite couple has called it quits.
'Why Him' actress Zoey Deutch broke up with her boyfriend of five years and the relationship came to an end. We will come up with details on duo and information on Zoey Deutch personal life.
Reason For Breakup with Boyfriend
A few years back nobody would have believed the adorable couple would ever break up. Zoey and Avan made headlines as a possible couple when duo attended kid choice award together in 2012. The suspicion came true as they become inseparable following year.
After 5 years of relationship, the duo has parted ways on Jan of 2017 with E! News reporting. As for the source, the decision to quit is amicable but the reason behind the split is still unknown.
Furthermore while describing the relation, the source added that the couple had broken up 4 months before media came to know and they were still friends.
Photo Credit: Just Jared
With high celebrity status, they wanted to keep their relationship low-key. In an interview with Glamoholic magazine, Zoey's boyfriend opened about how he thinks about the relationship in public. He said;
"Maybe I've been lucky but I think that it's mostly a choice. I think if you continuously choose to court the public's attention to your relationship, you run the risk of asking them to pry more out of it, but it would also be a bit strange to totally ignore your significant other's existence in public as well. So just trying to find the line that's most comfortable is important. If you don't want to be a spectacle don't make it a spectacle, and hopefully mostly you'll be left alone.
Besides, dating her one and only boyfriend there is no any public evidence to claim her to be dating any other. But if reports are to be believed Zoey is reported to be dating with Danila Kozlovsky. But both the couple has not clarified on this rumored relationship.
Famous daughter with famous mother
Zoey Deutch has a famous beautiful mom, she is no other than 'Back to The future' actress Lea Thompson.  In 30th Anniversary screening of classic movie 'Back to the Future', the mother was accompanied by her daughter.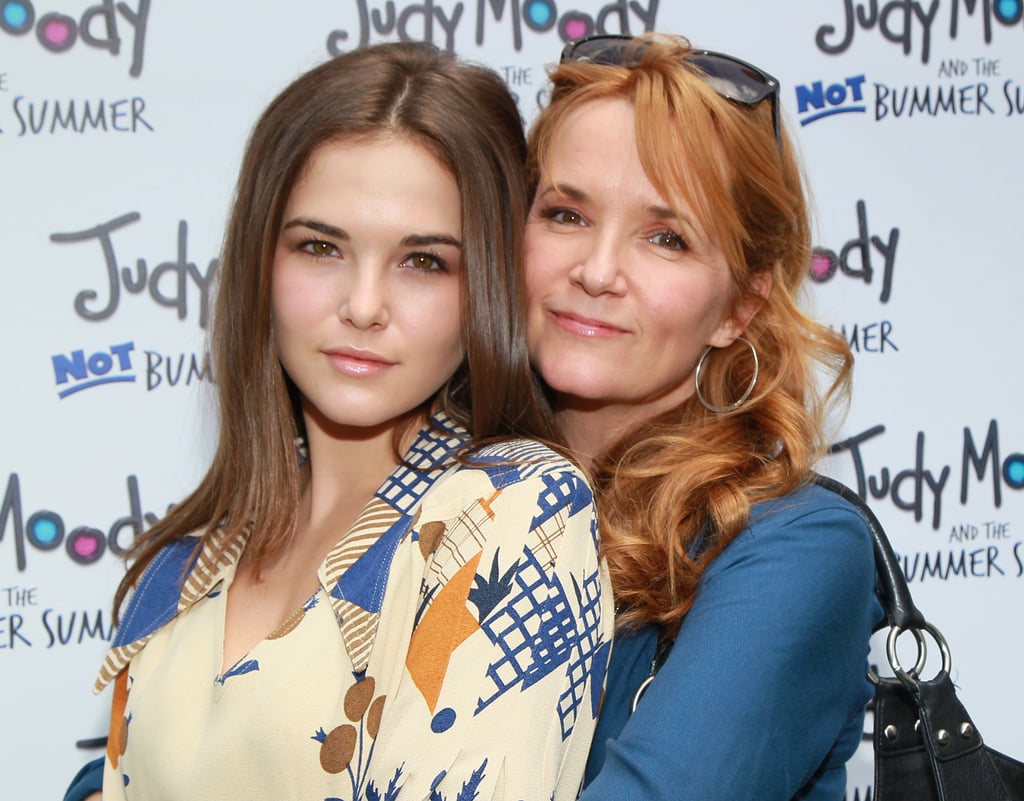 Photo Credit: Etonline
As Lea Thomson and daughter hit the event, there's little of the difference between the beauty of the 80's(Lea) and her daughter. So, Apple doesn't fall far from the tree!
Zoey Knows How to rock in a Bikini
Zoey having a slender beautiful body and wouldn't be afraid to come out with a single piece of cloth, she knows how to rock with her bikini body.
Photo Credit: GotCeleb
She looks astonishingly good with wearing a bikini. Her co-star Zac from Dirty Grandpa couldn't help himself as he checkout on bikini beauty Zoey.
Zoey Deutch's Short Bio
American actress Zoey Deutch was born on November 10, 1994, in Los Angeles California. She is born to parents: actress Lea Thompson and director Howard Deutch. She has a sister who is also an actress.
Zoey has worked in several hit movies and TV series alongside highly established actors. She is best known for movies 'Why Him', 'Before I fall, 'The Vampire Academy'and 'Dirty Grandpa'. She started her acting career from TV shows. She has played in series as Switched at Birth Ringer Criminal Minds, Suspect Behavior.