Who is Yuki Kimura, Contestant of 'Bachelor Winter Games' Dating? Know Yuki Kimura's Past Bachelor Show of Japan, Net Worth And Bio-Wiki!
She is persistent in finding the right one in bachelors reality show. Well, she is none other than, international reality star Yuki Kimura, flaring up with little English talks and trying to reach out for real love of her life. Previously, Yuki competed among twenty-four women in winning the heart of Hirotake Kubo, bachelor entrepreneur in The Bachelor Japan.
Now, Yuki Kimura, a young bachelorette is gearing up all her cute and adorable acts to bewitch bachelors out there in 'Bachelor Winter Games.' Is the reality show favoring up romantic linkup despite translation hassles? Has Yuki Kimura found someone after losing Japanese hunk Hirotake Kubo? Is she dating anyone and thinking of progressing relationship to engagement and marriage in hand?
Let's explore what The Bachelor Winter Games has secured for Yuki Kimura, her dating life, presence in bachelor franchise, net worth, and Wiki-bio.
Who is Yuki Kimura Dating in The Bachelor Winter Games?
Chris Harrison, the host of dating game show along with Ben Higgins, agreed that Yuki would soon earn international breakthrough as she is sweet, adorable and very compelling by nature. Though she had a problem in communicating due to language differences, Yuki relied on a translator to convey the message to competitors and whom she was interested in.
With a little English, Yuki relayed the message to Dean Unglert, playboy of Bachelor in Paradise. While all of the bachelors and bachelorette were toasting drinks in Japanese etiquettes, Yuki gathered up guts and said; "Dean Please! Me Rose!"
https://youtu.be/hIlHko1H-sM
Caption; Yuki Kimura asking for Rose from Dean Unglert in The Bachelor Winter Games.
But, Dean is rumored to have an affair with Lesly Murphy of Winter Games. Perhaps, Yuki, being the youngest one is trying to advance towards youngest playboy, 26- years old Dean in the show. Similarly, she is trying to reach out many bachelors, keeping heed of selecting the right one. Yuki is seen chatting with them, making up warm gestures by creating heart sign by hands and requesting them to teach English.
Yuki Kimura Competing for Hirotake Kubo in "The Bachelors Japan."
Twenty-five bachelorettes including Yuki Kimura competed for winning romantic partner for 35 years old entrepreneur hunk, Hirotake Kubo. The first episode of The Bachelors Japan commenced with rose ceremony, where Kubo had to choose twenty girls by giving them rose, while the ones who did not receive roses had to leave the show.
Caption; Yuki kimura meeting Hirotake Kubo for the first time in The Bachelor Japan
Yuki doubted if Kubo would adore her 'gal' outlook. 'Gal' is the fashion term in Japanese, which refers to woman adapting to bright hairs and flashy make-ups. Despite the suspicion, she was selected among top twenty bachelorettes for Kubo.
She showcased jealousy whenever fellow contestant used to flirt or talk with Kubo. Amidst that time, Yuki tried to make a move with Kubo but soon halted due to her shyness. However, she tried to impress Kubo with her signature dish "Omuraisu."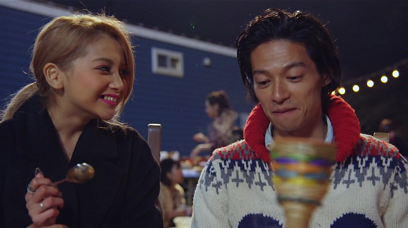 Image Source: Stuff in LA
Though she failed to win Kubo over another contestant, she is keen to find the romantic partner in Bachelor shows;
"I want to marry a man I meet on The Bachelor until that day comes, I will keep being on The Bachelor [shows]."
Yuki Kimura's Net Worth
Appearances in the international platform are a sign of international stardom too. She captivated young hearts in the reality show with appealing looks and adoring English tits bits. Well, the net worth of Yuki Kimura is not revealed to media yet.
She has been a part of two bachelor's games till now; The Bachelors Japan and Bachelor Winter games. So,  her accumulated net worth must be in handsome figures.
Yuki Kimura' Wiki-Bio: Birthplace and Fun Facts
Yuki Kimura came all the way from Atsugi Kanagawa, Japan and participated in the spin-off The Bachelor Winter Games.  Her parents, education background and brief on early life are yet to disclose in media.
Yuki can kick off winter sports potential. Yes! She can snowboard. She has shared some of the snaps of winter snow sports on her Instagram profile.
Yuki has a nickname- Yiki poyo. She has often recalled her nickname during the first meet with Kubo and inductor video clip for Bachelor series game.