Explore MMA Urijah Faber's Dating Affair With His Girlfriend Along With His Wiki-Bio And Net Worth!
Urijah Faber is an American mixed martial artist, who has succeeded WEC Featherweight Championship at WEC 19.  Faber sustained the championship title till 2008 when he lost to Mike Brown at WEC 36. His spinning strike made him a well-known face in MMA and WEC.
Lately, Urijah Faber is highlighted in between the take on of Josh Emmet against Jeremy Stephens at UFC where he confronted the perfect situation of Emmet to lose in the second round. Similarly, it heated the previous rivalry between Faber and Dominic Cruz, former UFC Champions. We will get into the topic later but at first, let's scoop on the MMA hunk, Urijah Faber dating affair. Has he married someone already?
We will be disclosing Urijah Faber's dating life, marriage, MMA titles, UFC heat ups, his bio-wiki, and net worth.
Is Urijah Faber Dating Anyone? Who is His Girlfriend?
In the year 2015, the team alpha male founder Urijah Faber announced that he was dating. He is not single, taken by hottie Kristi Randel for more than years. During UFC Fight Night 66, he brought his girlfriend Randel in Manila. She cheered up Faber in a fight and headed to advance their date in beaches of Boracay and Balesin Island.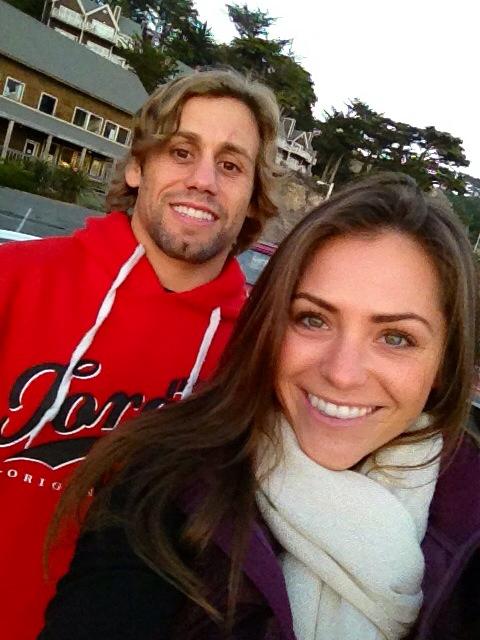 Source: Instagram 
Before an official announcement, the lovely couple was spotted at the Fighters Only World MMA awards. So, they could be dating a year ago before the official commitment.
Kristi Randel is fond of dogs. Her Instagram profile is all about the craze of fluffy pets and even appeals people to adopt them.  Born March 28, 1987, in San Clemente, Kristi Randel is an instructor at TEAMride.
Even, the family of Faber has accepted his girl. Suzanne, the mother of MMA and UFC hunk Urijah Faber, had uploaded the picture of his son and Kristi together. Let's hope for their stronger bonds in coming years.
Urijah Faber's Career in MMA and His Net worth!
When high school friend Tyrone Glover took him to watch pro MMA fights, he was so inspired that he underwent Brazilian Jiu-Jitsu training.  In the year 2003, he participated in first MMA fight. With no training in striking, he won the match by pinning down opponent via guillotine choke technique.
Image source; SB Nation
The consecutive eight fights, Faber triumphed over the opponents till he had his first defeat against Tyson Griffin in 2005. After few months, he revived title through his famous guillotine choke on Shawn Bias.
The estimated value of Urijah Faber's net worth is $8 million. He has gathered many titles and awards in thirteen spans of career. Though he retired on last fight against Brad Pickett on December 17, 2016, his fame is still robust as California Kid.
Urijah Faber Condemned Dominick Cruz & Michael Bisping
Lately, Faber has criticized the assessment of Dominick Cruz and Michael Bisping. It prevailed when Jeremy Stephens appeared to land on an illegal knee. Consequently, Josh Emmett lost by the second round.
Image source; MMA weekly
Dominick Cruz and Michael Bisping, former UFC champions disagreed and debated with Daniel Cormier on whether the winner Stephen's knee landed. They took a dispute to the next level when they claimed that an elbow making fouls does not make sense.
While Urijah Faber had a say:
Dominick Cruz and Michael Bisping are f**king blind. That was a knee to the back of the head. It took a knee to the back of the — an illegal knee to the illegal back of the head. Gimme a frigging break. Congratulations to Stephens, he fought a good one.
Urijah Fiber Winning Titles in WEC
During the initial days in MMA, he bagged GC and King of the Cage bantamweight titles. When he debuted on WEC platform in 2006, he beat Cole Escovedo and won WEC Featherweight Championship. Faber continued to hold championship title till he got first defeat from Mike Brown by TKO.
Image source; CTV News
Trained with Brazilian Jiu-Jitsu, he applies all his striking skills in a fight. He even blends the style and techniques while he is against an opponent.  Faber has takedowns, takedown defense, and ground control tactics to beat down. He mastered over grappling ticks and phenomenal striking on his own.
Urijah Faber Bio-Wiki, Age & Early Life
Born in the year 1979 on 14th of May in Isla Vista, California, Urijah Faber's childhood days were spent in Lincon. His father Theo fiber belongs to Dutch ethnicity, while his mother Suzanne Faber belongs to Italian, English, and Irish. Along with father and mother, he dwells with two siblings- an older brother Ryan and a younger sister Michaella Tastad.
He completed his middle schooling from Glen Edwards Middle School and high education from Casa Roble High School and Lincoln High School (Lincoln, California). Faber holds a bachelor's degree in Human Development from the University of California at Davis.
Youtube: Urijah Faber career highlights
Faber was an excellent athlete during schooldays, where he has an award for footballs and wrestling games. He did not receive wrestling scholarships at first attempt but achieved it in the second try, when Faber won hearts at University of California-Davis wrestling program.