Why Canadian Authorities Detained Huawei CFO 'Sabrina Meng'? Complete Biography: Net Worth And Family Details!
Sabrina Meng, the Deputy chairwoman of the board and chief financial officer of Huawei company was taken into custody in Canada from the request of the United States on 1st December 2018. The action was taken due to the allegation for defrauding multiple financial institutions.
Furthermore, till her supervision, the 46-year-old will be living in a Vancouver home which belongs to her and husband. Let's dig into Sabrina Meng bio, wiki, age, family, networth,  and education.
Also, Read A Sneak Peek At Aspyn Ovard Wedding Details, Husband, YouTube Channel, Net Worth, Wiki, And Bio!
Sabrina Meng Arrested In Canada
The US Authorities found out, the 46-year-old possessing three Hong Kong passports and one China mainland's which led "dire consequences." They even addressed Chinese citizens are not supposed to hold passport more than one.
On Monday, the China Immigration Department released the statement by clarifying Meng's passport of Hong Kong only remains valid. The Hong Kong Chief Executive, Carrie Lam Cheng has even questioned whether the government had double standards when informing the public about immigration arguments. She told
"I'm not saying there is a double standard, but some cases could lead to dire consequences, so there is a need for clarification."
Lam also stated that Meng's only one Hong Kong passport was valid and though expired other but many hold a valid visa.
"It is not uncommon to use a valid, current passport to travel … but also carry an old one with a visa that is still valid,"
However, on 11th December 2018, Sabrina Meng got the bail after depositing C$10 million (US$7.5 million). The Vancouver judge set her free with some term and condition. The judge ordered the Huawei Technologies chief financial officer to submit 24-hour supervision of private security firm, wear a GPS ankle bracelet and to surrender two Chinese and Hong Kong passports.
Who is Sabrina Meng? Huawei; Age, Family
Sabrina Meng is a business executive born in the city of Shenzhen of China in 1972. She is a deputy chairwoman of the Board and Chief financial officer (CFO) of China's largest leading private company named Huawei. Previously, she has held the position of President of the Accounting Management Dept. and Director of the International Accounting Dept, CFO of Huawei Hong Kong.
Her birthday falls on 13th February which makes her age 46. Grown up in the business-minded family, her father Ren Zhengfei is the founder of the Huawei Company. The company began with an investment of $5,680 in 1988. Now, it is the biggest operating company in China which has more than 180,000 employees.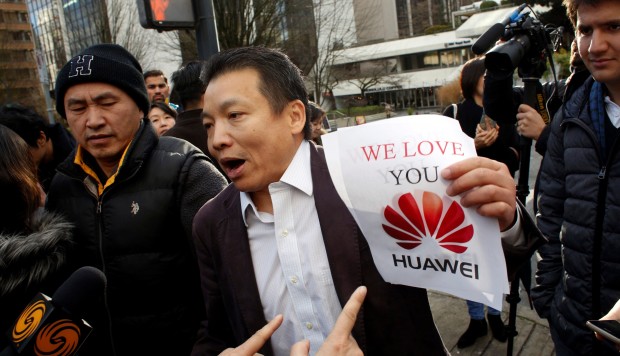 Meng is also concern about family. She is married to a man named Liu Xiaozong in 2007. Her husband is a businessman who formerly worked for Huawei for a decade. They have a daughter whose identity remains unknown.
However, she was no ordinary with marriage because of her previous martial affair. Her past married life has three sons. As Meng and Liu share a happy blissful married life with their complete family. The pair with their family currently resides in the city of Canada.
Nevertheless, Meng and her husband Liu own two multi-million dollar residences in the city of Vancouver, British Columbia. As per her net worth could be estimated in multi-million dollars. Through her extraordinary talent has even led her to hold the position of No.8 in the list of Outstanding Businesswomen of China according to Forbes in 2017.
Read More:  Ellie Brown Wiki, Bio, Boyfriend, Age, Height, Parents, Ethnicity, Love Island 2018
Sabrina Meng Wiki facts: Family and Education!
Born as the daughter of Ren Zhengfei and Meng-Jun; Sabrina Meng possesses the ethnical background of Asia and holds Chinese nationality.
Her mother was the first wife of Ren and the daughter of Meng Dongbo; who is a former deputy secretary of East China Military as well as Administrative Committees and deputy governor of Sichuan Province. Later, her father shared his vows with Yao Ling after divorcing her mother, Meng Jun.
Meng parents' raised her along with brother Ren Ping and half-sister Annabel Yao. Her younger brother also works at Huawei. Her half-sister is the daughter from step-mother. She is 25 years younger than Meng.
At the age of 16, she adopted her mother's surname. 1992, she earned graduation from college. Then, she garnered a master's degree in accounting from Huazhong University of Science and Technology.