'Dating Alert' Actress Lea Michele is dating a new boyfriend! Her past dating history
Share this
Many celebrities in the showbiz industry have a long history of dating, having numbers of affairs and relationships in the past. And one of them is actress Lea Michele who also has plenty of broken relationship in the past.
Currently, there are rumors about her dating with a new boyfriend. Her great fan following might be wondering about this new guy. Let's dig into her personal life and dating history that she has made over the past few years.
Michele's affair with her new boyfriend!
Her fans might be curious about her new boyfriend whom she is dating currently. Well, the mystery man's name is Zandy Reich who turns out to be her long time friend and is the president of the clothing company AYR.
The couples were seen holding hands in New York City on Tuesday after they grabbed lunch together.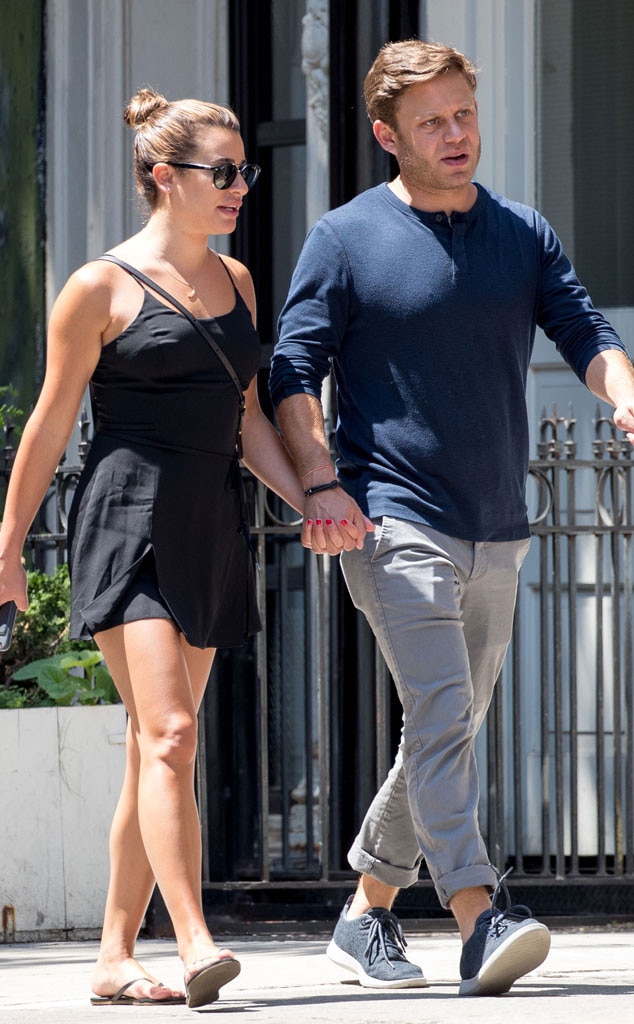 Photo Credit: eonline.com
According to people, it stated that;
"They've been friends for a long time, a few years," "Things turned romantic recently, and they're dating now."
Zandy graduated from University of Pennsylvania's Wharton School of business in 2012. Previously he was the head of business development for clothing brand theory. Michele became close to Zandy on August 2016, when she attended an AYR party. According to E!News; some fans tweeted,
"Ok but who is Zandy Reich,"
and another fan made a quip,
"Currently crying bc i'm not zandy reich,"
On July 13, she paid tribute to her former boyfriend who is also her co-star, Cory Monteith on the fourth anniversary of his death.
Her former boyfriend Cory was found dead in a Vancouver hotel room in the year 2013. He died from a mixture of heroin and alcohol completing his rehab after one month.
She posted the photo of them together on Instagram in which she captioned:
'4 years, and it still feels like yesterday.. love you more C.'
Dating History of Lea Michele!
Now, let's go through her dating history; before Zandy she was in a relationship with Robert Buckley (2016) who is currently single. He is an American actor.
Photo Credit:
Michele was also in a relationship with Matthew Paetz from the year 2014 to 2016. He is an American entertainer who is currently single.
Photo Credit: lifeandstylemag.com
Along with them, she has been in a relationship with Cory Monteith (2011-2013), Theo Stockman (2009-2011), John Lloyd Young (2008-2009), Matthew Morrison (2007), and Landon Beard (2006-2008).
Lea Michele's wiki like bio!
Lea Michele Sarfati was born on August 29, 1986, in the Bronx, New York, so her age must be 30 years. Lea is the only child of her parents, Edith Thomasina who is a retired nurse and Mark David Sarfati who is a real estate agent. Michele went to Rockland Country Day School, an elementary school in New York.
She started her career as a child actress on Broadway. She is known for playing the role of Rachel Berry on the Fox series Glee (2009-2015), for which she received an award. She made her feature film debut on New year's eve in the year 2011.
She is also a singer and has released her albums, and some of them are 'Cannonball,' 'Louder' (2014) and 'Places' (2017). Not only Lea is a singer she is also a writer and has written two books which are: 'Brunette Ambition' (2014) and You First: Journal Your Way To Your Best Life (2015).
Michelle is an actress, singer, songwriter, and author, has appeared in various movies and TV shows, product endorsements, earn salary per episode of $80,000 that adds to his net worth which is estimated to be $10 million dollars.