Get Out's Director Jordan Peele Is A Father To His One Year Old Child; Explore Jordan Peele Married Life!
Jordan Peele rose to fame when his directed horror movie Get Out smashed box office in 2017. Get Out became one of the profitable films that bagged him an Oscar nomination for Best Director. The movie made him the first black filmmaker whose movie earned more than $100 million at the box office.
Before, directorial debut through, Get Out, Peele was a popular performer who had co-created the hit Comedy Central show Key & Peele (2012-2015). Jordan Peele is acknowledged as an actor, director, and writer of Comedy Central's Key & Peele and horror film Get Out which he recalls as a social thriller movie.
Also, see: Who is Get Out costar Stephen Root married to after divorcing the first wife? Know his Married Life, Children, Net Worth, House, Lifestyle, and Career
Let's dig in more about Jordan Peele's life before and after fame, accompanied by his personal life and net worth including Jordan Peele's married life and his wife.
Jordan Peele's Married Life; Who is His Wife?
Jordan Peele is a married man who has a beautiful wife. He even shares a child with his wife and lives a blissful married life. So, who is Jordan Peele's wife?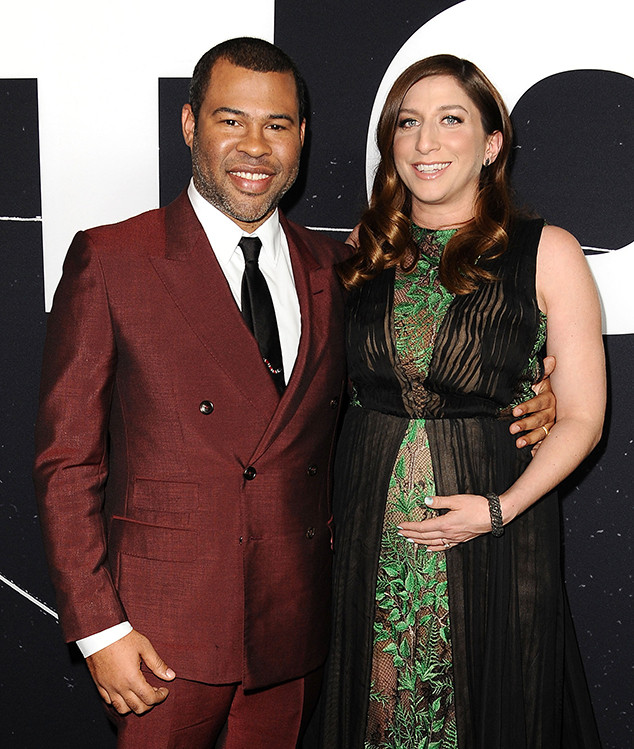 Photo credit: Jason LaVeris/FilmMagic
After dating for two years, Jordan Peele announced the engagement with actress Chelsea Peretti.  In 2016, the couple eloped and had their cute pup to witness the wedding.
They had a low key wedding halo, where they shared their vows. On 1st July 2017, Chelsea Peretti gave birth to a baby boy, Beaumont Gino Peele.
You Might Also Like: Who is Trevor Noah Dating? Know his Past Affairs, Dating History, Net Worth, Career, and Wiki-Bio
According to Jordan, his wife is the funniest person in the world. He told about his wife, Chelsea, to the US Weekly at the Los Angeles Film Critics Association Awards in January:
I just couldn't have asked for a more supportive partner, really. When it gets tough, I get to come home and have the funniest person in the world in the room with me. I am forever blessed.
Jordan Peele is happy with his married life and feels blessed to have such a supportive wife. We pray for the longevity of Jordan Peele's married life!
Jordan Peele Wiki-Bio: Age, Parents & Ethnicity!
Jordan Peele was born to a black father, and white mother, Lucinda Williams, on the 21st of February, 1979, in New York. His father died, when he was six years old. He grew up on New York City's Upper West Side alongside his mother.
Peele had difficulty in adapting to racism contradicted society. He had admitted that his biracial profile often outlooked him, especially when he had to select the racial category in standardized tests.
Don't Miss Out: Hasan Minhaj Happily Married To His Hindu Wife, Beena Minhaj And Recently Welcomed A Daughter
Now, he beholds an ethnicity of African American. It has undoubtedly eased his racial box.
Back in the days, his friends did not believe that his mother was white and growing up, he often confronted his voice being 'too white' in his skin. He had been straightforward and bold since his early days.
When a young Peele appeared on the ABC special Kids Ask President Clinton Questions, he inquired how to help kids whose parents weren't paying child support.
Jordan Peele's Movie: Get Out
In early 2017, Get Out, the horror genre movie was written and directed by Peele premiered at the Sundance Film Festival. Then, it released in the theatres the next month.
The movie smashed box office records, collecting more than $30 million in the first week. Eventually, it made more than $250 million worldwide.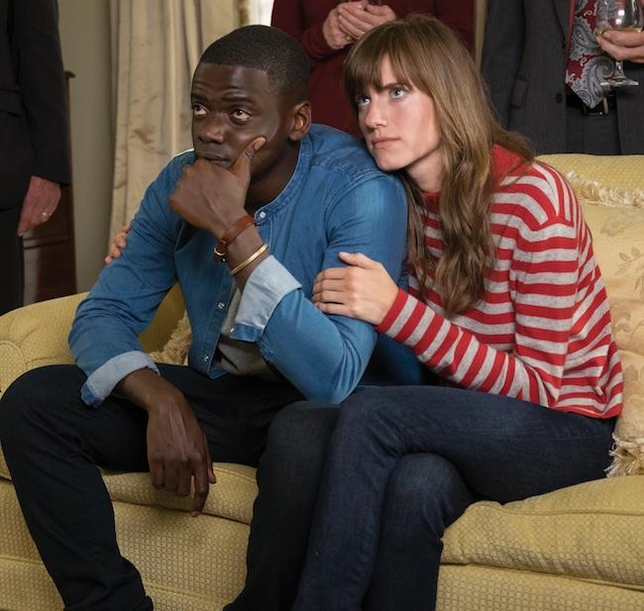 Photo credit: twitter.com
Get Out is a story about a black guy, who meets his white girlfriend's parents for the very first time. It showcased struggles of racism invasion and how the protagonist escapes an entire racism remarks, he has been suffering.
It crafted an insight of a black man existence in the society. Hence, Peele reaffirms his movie as social thriller genre instead of a horror movie likewise Rosemary's Baby (1968) and The Stepford Wives (1975).
The inspiration for 'Get Out'
Jordan Pelee got inspired by the 2008 presidential primaries and the election of Barack Obama to the presidency.  He adhered to show how society has not been changed even after the racism movement.
So, he further immersed in portraying white supremacy consuming people's life unknowingly.  He said about his movie Get out;
"The disproportionate number of black men thrown into a dark room for the rest of their lives is one of the central themes of what my movie is an allegory for."
Jordan Peele received numerous accolades, including Academy Award nominations for Best Director, Best Picture, and Best Original Screenplay.
He became the third person after Warren Beatty and James L. Brooks to receive three nominations for a debut film, and the first black person to collect nomination for debut movie.
Jordan Peele's TV Shows & Films
Jordan Peele has been a voice actor on shows, including Bob's Burgers, and Big Mouth and Rick and Morty. Peele has also voiced characters for films like Captain Underpants in 2017. He also starred on the TV show Fargo during 2014.
Also, see: American Actress Jessica Williams Dating Affairs, Boyfriend, Career, Bio, Net Worth, Age, Wiki
As Peele was still under contract with Mad TV, he got disappointed when he landed a slot on Saturday Night Live to impersonate Barack Obama. Consequently, it led him to turn down the job.
Jordan Peele's Net worth
As of 2018, Jordan Peele's net worth was estimated to be around $12 million. Bagging all of the accolades, critical acclaims, excellent performance, there's more to be counted in.
Encompassing the success of the directorial debut Get Out, it had elevated his net worth since last year. His movie smashed the records and became one of the profitable movies in 2017. This had surely added to Peele's financial account.