Clare Crawley Engaged to Benoit Beausejour-Savard! Exclusive Details on Clare Crawley' Journey on Bachelor Winter Games And Her Net worth!
The romance reality television show "The Bachelor winter games" always comes up with twisted fortune likewise Clare Crawley, an American bachelorette got engaged to Benoit Beausejour-Savard despite dumping him on the former episode. Now, Clare Crawley is an official fiancée of Benoit Beausejour-Savard.
Has the show completed its responsibility of finding the perfect partner for either bachelors or bachelorettes? We know that it has yet to shower many twistable endings and marriage date to be fixed for Clare Crawley and Benoit.
Shall we dig in more of Clare Crawley's dating life in the romantic gateway of The Bachelor winter games, fiancée Benoit Beausejour-Savard, a love triangle with Christian and Benoit, her net worth and personal information within Wiki-Bio?
Clare Crawley Engaged to Benoit Beausejour-Savard! Soon-To Marry?
Benoit went on his knees with a ring and Clare nodded her head with a 'Yes.' Finally, fans of Clare got to see their pairings despite the number of twists and turns in their relationship. On the episode of February 22, the duo got engaged.
Image Source; People.com
This blissful even was inevitable. Clare had dumped Benoit over Christian on the former episode. Who would have thought that she will get dragged into arms of Benoit again? Things were not rightfully adapted between Clare and Christian. Consequently, it became advantageous to Benoit.
The Canadian hunk confessed that he went for shopping beforehand the occurrence of the special proposal and even worried whether she would love his gift. And, there Clare was enticing over unexpected twists and beautiful ring in front of her. She expressed;
"Going on these Bachelor shows is a huge risk, and you don't know the outcome. It's scary, but it's a risk that you have to take to get the good in the end."
Well, we'll soon hear about their marriage as Clare's parents excitedly asked her on marriage details when they were informed about engagement.
The Love Triangle Among Clare Crawley, Benoit Beausejour-Savard, and Christian!
Clare was the first choice for Benoit at first sight, while he was dwindling and indecisiveness on selecting the right partner. On one of the tasks, she was asked to choose between Benoit and Christian. To fans amazement, she kissed Benoit in a friendly manner, broke silence on her indecisive nature and finally advanced towards Christian.
Image Source: US Weekly
Even after heading together with Christian, nothing went well. On the contrary, it became merit for Benoit, knocking at her door once again as once Clare has admitted that he was such a good catch.
Their fate was inevitable leading to auspicious engagement after a hand. We hope, we'll soon get to shower blessings on the wedding day.
Clare Crawley's Career in Reality Television Series; And Her Net Worth!
Clare is professionally a hairstylist, but she rose to fame after being a reality show star. She has participated in Bachelors reality shows before "The Bachelor winter games."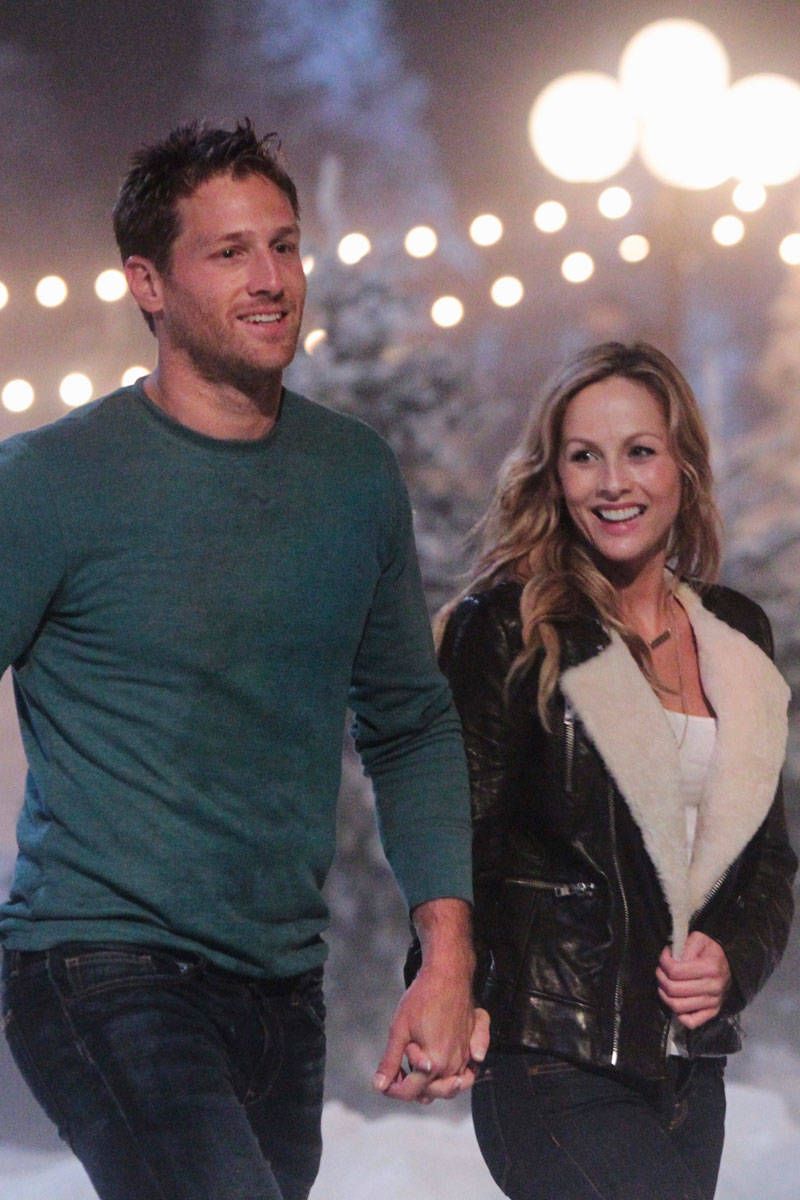 Image Source: Bustle
She was one of the finalists in the show but lost it to Nikki Ferrell, who also starred Juan Pablo Galavis. Then she again appeared in Bachelor franchise, searching a right partner in a reality TV show.
Clare Crawley is a hairstylist as well as reality show star in recurring roles; hence, Clare Crawley's net worth is in handsome figures. As of 2018, the rough estimation of Clare's net worth is around $800 thousands.
Clare Crawley's Bio Wiki: Age, Height, Parents, and Siblings
She was born in on 20 March 1981 in Sacramento, California.
36-years old Clare stands at the height of 5' 5".
She grew up with her six siblings, and she is the youngest of them.
She had lost her father before she appeared on Bachelor franchise.
Clare still misses her father, whom she had loved so dearly. She got emotional thinking about her late father when she received the proposal from her fiancée Benoit;
"Before my dad passed away, we had our own little like father-daughter dance at home, when we knew he was going to pass away. After that, the wedding wasn't important. I think that's when your dad gives you away, and that's, to me, old-fashioned, but its how things go. So, I never thought I'd have a wedding!"