Entertainment
Christopher Nolan Married Life, Wife, Children, Movies, Net Worth, Bio, And Wiki-Facts!
Quick Facts of
Born Name

Christopher Edward Nolan

Birth Place

London, England

Height

5 feet 11 inches

Zodiac Sign

Leo

Nationality

British

Ethnicity

Mixed

Profession

English film director and screen writer

Wife

Emma Thomas

Net Worth

$180 Million

Weight

73 kg

Age

48 years

Sibling

Matthew Francis Nolan and Jonathan Nolan

Parents

Christina Nolan and Brendon Nolan
When movies make a roundabout in epistemological and metaphysical themes, an English film director and screenwriter Christopher Nolan rings the right name. Nolan movies are primarily spent on extraordinary storytelling, complicated companionship between narration and visual impacts and defying personal identity.
Some of the instances are Inception, The Prestige, The Dark Knight Trilogy, Interstellar and much more which counts on various accolades. Now, aren't you electrified to be familiar with his bio? Who is hr married to?
So, let's unbox his bio, wiki, net worth, movies, and TV shows, married, wife, children, and books.
Christopher Nolan Married Life and Children
The influential director, Christopher Nolan is careful in spilling the personal details. In fact, he does not let the private information leak on the limelight like in his screenplay movies. Nolan tied the knot with high school sweetheart Emma Thomas, ages ago. Now the pair is leading a blissful married life with four children.
Source; Variety
Nolan was nineteen years old when he met his wife Emma Thomas, at University College London. Initially, she served as producer for his short movies without intending what she was doing. Then, Emma became part of Nolan's artistic filmmaking production. As a result, she has produced every single movie of Nolan from the 1998 movie Following to 2017 Dunkirk via Syncopy. Inc production house that counts spouse name.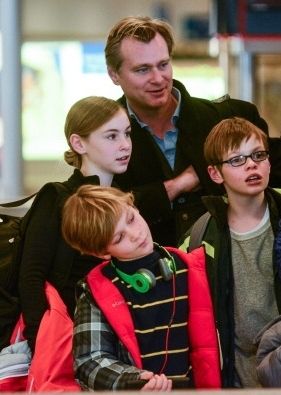 Source: StarsUnfolded
Currently, the family of six is residing on the heart of Los Angeles.  The couple's children had started summoning Christopher Nolan in the queer way (Mr. Woodcock)  since they watched Phantom Thread film.
And Paul's movie (Phantom Thread), my wife and I made the strange decision to take our kids to go see it and, ever since, every time I do anything vaguely what they would call dictatorial, it's, "Oh, Mr. Woodcock, are you a spy? Get out your gun. Do you have a gun?" I've been hearing that for weeks.
So, you wanna know the names of those lucky children? The wait is over! he is the father of three sons and a daughter. Christopher's sons are Magnus Nolan, Rory Noland, and Oliver Nolan while his daughter's name is Flora Nolan.
Christopher Nolan's Movies and Net Worth
Since 1998, Christopher Nolan initiated capturing artistic storytelling of young jobless writer in Following. Then the successful march of movies began with Momento, Insomnia, Inception, The Prestige, The Dark Knight, Interstellar, and Dunkirk. Luckily, most of his films accumulated more than a million worth at the Hollywood box office collection.
Along with the commercial triumph, Christopher Nolan earned giant fame and accolades. Hence, he is the influential director, an ultimate auteur, big canvas storyteller of his generation, Forbes celebrity and many more. So, what is the net worth of one of the highest-grossing directors in history?
Christopher Nolan movies have a record of gathering $4.7 billion worldwide and a total of 34 Oscar nominations and ten wins. That said, any guess regarding Christopher Nolan net worth? Well, Christopher Nolan net worth accounts for $180 million, making him one of the highest grossing directors in the movie industry.
Moreover, Nolan collects some bucks from his books. Some of his books include Dunkirk, Interstellar: The Complete Screenplay with Selected Storyboards, and The Dark Knight Trilogy: The Complete Screenplays among others. 
[UPDATED]
Though Christopher Nolan has a net worth of $180 million as of 2019, some believe him having a fortune of around $135 million.
In 1998, Christopher made around $240,000 from his movie Following, where he was not only a writer but also its director and producer. One of his most famous mvoies, Memento earned a box office collection of around $39 million.
In 2002, Insomnia made $113 million but his most loved movie was Batman Begins in 2005 which earned $375 million at the box office.
Another one of his high-earners is The Knight Rises in 2008. The movie made as much as $1.005 billion. It's sequel The Dark Knight Rises made a similar amount at the box office, $1.085 billion which was only made on a budget of a quarter of a billion dollars, that is, $250 million.
Let's not forget about another one of his films, Inception. The movie earned $828.3 million at the box office.
Christopher Nolan Bio-Wiki
The English filmmaker Christopher Nolan was born on 30th July 1970 in London, England. Regarding his parents, his father Brendan James Nolan is an advertising executive, and mother, Christina Nolan is a flight attendant and an English teacher. 48 year old, Christopher Nolan grew up in London and Evanston, Illinois, along with an older brother, Matthew Francis Nolan and younger Jonathan. Interestingly, he has dual citizenship of both British and American nationality.
Recommended: British Born Filmmaker Gavin Free Wiki And His Net Worth!
At the age of seven, he borrowed Super 8 camera from father and started filming. With influence from movies like Star Wars and A Space Odyssey, Nolan aspired to pursue the career on directorial debut. Also, from the aid of his uncle, who worked at NASA and provisioned him footage of Apollo rocket inclined Christopher Nolan towards a stop-motion animation.
Regarding his education, Christopher has a bachelor's degree in English literature in 1993 from University College London. On the same note, Nolan did schooling at the Haileybury and Imperial Service College, an independent school in Hertford Heath, Hertfordshire.  After graduation, he inclined to script reading, camera operating and directing either corporate or industrial videos.
Tags
Others