CrossFit Champion Christmas Abbott Exit Interview! Know More of Her Bio, Wedding, Husband, Workout and Net Wort In Details
Christmas Abbott's injuries had a big role in making her loose in the Big Brother finale. Abbott also says that she was blindsided at the last minute by her fellow contestant Josh by surprisingly choosing Paul with him in the finals. So what does the CrossFit Champion Christmas Abbott have to say about her exit and time in the Big Brother house?
Also, know the details of her personal life, like who her husband was when they got married and her net worth and house. Below are the details.
CrossFit Champion Christmas Abbott Exit Interview
Christmas Abbott, the inspiration to many through her workout and cross-fit videos, has had a great time in the Big Brother house. Christmas Abbott had many strategies for winning the show, but unfortunately, her injuries devasted her plans. When asked about what were her strategies for winning the show, she said;
 I had to play a completely different game. My strongest asset was taken away from me on Day 13. I had to completely prove that I was still capable of being in the game and playing the game. And people had no idea how I was playing the game, which means that I played it really freakin' well.
she further added;
I sat back, watched, listened, went to people when I needed to put a little seed here or there, and did what I freakin' told them to do. And I feel like I played a very stealth game. I had two people constantly protecting me and throwing me comps left and right.
Also, Read: TV personality Jordan Wiseley
Is Christmas Abbott proud of Josh?
Christmas Abbott, who was also considered the strongest contender, was very proud of her fellow housemate Josh for winning the show, and she said;
 I was so proud of Josh. I knew if he took Paul, he had a much better chance of winning and I'm just glad that the jury saw what I saw, but also what I saw in Josh. And I'm really, really proud of him.
Christmas, Abbott was also in shock when her fellow mate Josh who had even promised to take her in the finals, betrayed and instead chose Paul with him in the final. When asked in the interview if she feels betrayed, she said;
 Yeah, I was disappointed that he made that decision because I just never thought that he would pivot. I wanted him to do what was best for his game. But at the same time, I wanted him to stay true to his commitment.
Christmas Abbott Talks About Her Injury
Also, when asked how did the injury happen and how did she come from it, she said;
They play three songs every morning – you guys don't get to hear that – but that morning, they played "Save a Horse (Ride a Cowboy)." And we were just goofing off, horsing around, and he ran outside and slipped and fell on me. I knew I broke my foot immediately.
further talking about the injury, she said;
But I also didn't want to go to the ER, because I knew that if I left the house, then I was not gonna be able to return. So the only way that I agreed to leave was that I had a verbal confirmation that I was allowed to come back in the game.
Caption: Christmas Abbott recovery from the injury.
CrossFit Champion and fitness enthusiast Christmas Abbott is now expected to feature in the Amazing Race next season, and when asked how would she pick to be her teammate, she said;
I'm not sure yet. I've got to have some conversations with some people first. (Laughs.) That may be a big deciding factor in my final two. They're going to have to campaign to me this time.
It will be nice to see Christmas Abbott in the Amazing Race, and we hope she recovers soon from the injuries.
Is Christmas Abbott Married To Husband Geoff Kercher?
Since the Big Brother season, 19 have kicked off CrossFit Champion Christmas Abbott, the favorite of many. Christmas Abbott has proved herself as a strong contender though suffering from injuries, and now many of her fans and followers are wondering does this strong girl have a boyfriend or not?
To surprise many of her fans, Christmas Abbott does have a boyfriend, though she has mentioned she had a crush on Paul. Big Brother fame Christmas Abbott is engaged to boyfriend Geoff Kercher. Christmas Abbott and Geoff Kercher were engaged in 2016 when Geoff romantically proposed to her. Christmas shared the news of her engagement with Geoff Kercher through her Instagram.
Also, Read: Is Television personality Willie Robertson dating anyone or married?
This lovely couple is head over heels in love with each other and may be planning to get married. And according to various sources, it states that the couple is already married and had their wedding at a private wedding ceremony. However, this news is not confirmed by either of the couples in any official statements.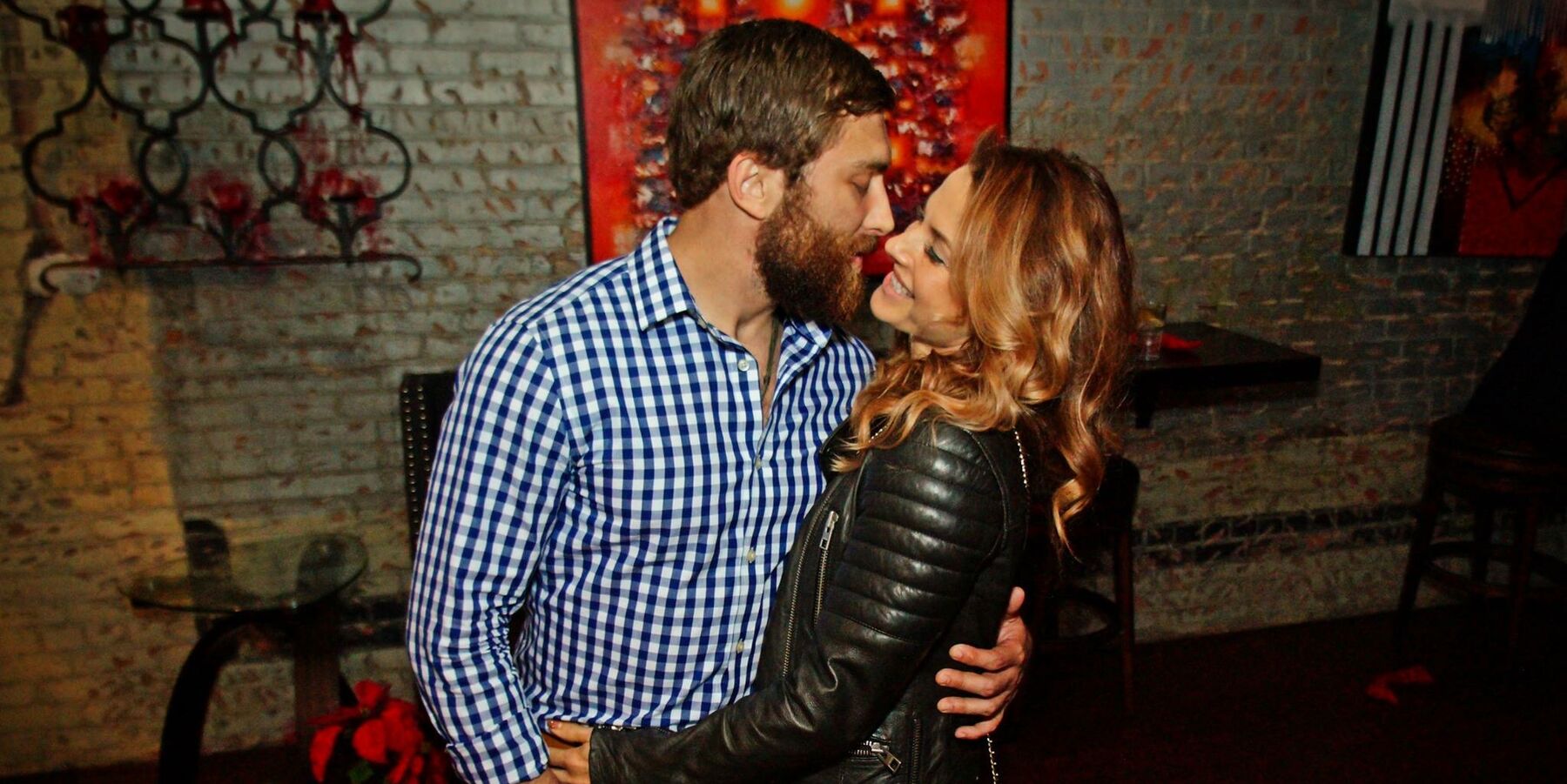 Photo Credit: The Knot
Before getting engaged to Geoff Kercher, she was in a relationship with Josh Holmes, but sadly the couple called it quits. Josh Holmes was the fiance of Christmas Abbott before they broke up. However, she does not reveal the reason for the couple's breakup.
Christmas Abbott's Short Bio, her workout, and net worth details!
CrossFit Pro Christmas Abbott is a multitalented person as she is an athlete/Fitness Trainer/Author/Life Coach and whatnot. She celebrated her 20th December and was born on 20th December 1981. Christmas is at the age of 35 and has achieved a lot in this age.
Talking about her parents and family, her father is Ed Abbott, and her mom is Barbara Abbott; she also has a sibling, a sister name Kole Abbott. Her parents are very supportive, but other information regarding her family is not revealed yet.
At 18, Christmas tried to enroll in the Army, but sadly she got rejected. After that, Christmas joined the US base in Iraq and admitted it changed her life for good. At that time, she was first introduced to fitness training by one of her partners. Talking about the before and after changes is immense. After the introduction to fitness training, her life changed as a whole.
Also, Read: Chelsea Ingram Wiki-Bio 
Christmas then joined the CrossFit regime when a fellow soldier showed her a video, and she also started on the CrossFit. In the year 2010, she came back and then started her gym, the CrossFit Evoke, and she soon gained success in the CrossFit.
https://www.instagram.com/p/BVxcXQ4D21h/
Christmas Abbott's Tattoos
Christmas, Abbott has an immense love for the tattoo, and her father was the one who helped her to have a love for tattoos.
Photo Credit: Pinterest
She also admits it was natural as she mostly hung out with the burly, tattooed biker in her childhood. Christmas, Abbott has a tattoo on most of her body.
https://www.instagram.com/p/BXqr81Xj5J_/?taken-by=christmasabbott
Now talking about her net worth, she has not exactly revel the amount of net worth. However, she must have a net worth of millions by looking at her career and success in the CrossFit business.
As of 2019, the estimated net worth of Christmas Abbott is $1 million.
Updated
Christmas Abbott is 40 years old as of June 2022. She has a net worth of $1 million. On 29th May 2022, Christmas Abbot and Memphis Garrett tied the knot in Georgia.